The joint venture between Enel X Way and Volkswagen Group starts a partnership with &Charge, company focused on user engagement through its App to improve the electric vehicle charging experience.
By providing a review of the service received at Ewiva's ultra-fast charging stations, e-drivers can earn "&Charge credits" to be redeemed for coupons to be used for purchases with partner brands on the platform.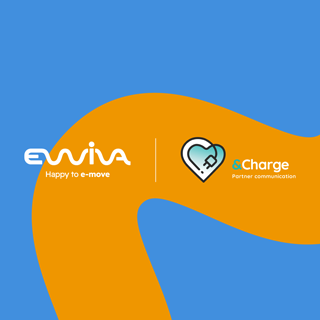 Ewiva, the joint venture between Enel X Way – the Enel Group company entirely dedicated to electric mobility – and the Volkswagen Group, has started a collaboration with &Charge, the innovative platform that, thanks to user involvement, offers value-added services for recharging electric vehicles.
Using the &Charge App, e-drivers will be able to solve 'challenges' by leaving real-time feedbacks on the Ewiva ultra-fast charging station, pointing out positive aspects and making suggestions on how to improve the charging experience. For example, users will be free to give their opinion on the charging experience, assess the functionality and technical aspects of each charging infrastructure, indicate useful notes on the appearance of the site or the cleanliness of the surroundings.
Thanks to user reviews, Ewiva will be able to maintain increasingly high standards of quality and performance across its network from North to South Italy, intercepting any problems even more quickly and directly and intervening promptly to ensure that its infrastructure is increasingly reliable.
There are several benefits for users who join Ewiva's 'challenges' with &Charge and share their reviews: they will be rewarded with &Charge 'kilometers or credits' (1 &Charge kilometre = €0.08) that can be redeemed into coupons to be used for purchases useful services in the platform.
The &Charge app is available for Android and Apple devices, on Google Play and the App Store respectively and to date already has several hundred thousand '&Chargers' listed across Europe.
"The collaboration with &Charge is strategic for the service we offer through our infrastructure – stated Luigi Antonio Poggi, Head of Marketing, Sales, Strategy & Communications at Ewiva – mainly because it allows us to make our HPC – High Power Charging –  stations more and more tailored to today's and tomorrow's e-drivers, leading us to become not only the most widespread network in Italy but also the most efficient and high-performing, through the users' point of view. This initiative is a further step towards ensuring that the charging experience is always a pleasant one and offering an increasingly easy and fast electric charging service, able to make people free and happy to e-move all around our Country".
"Cooperating with Ewiva, the largest ultra-fast charging network in Italy, as first Italian partner is an amazing milestone for &Charge and the entire team. Since we are specialized on providing innovative value-added services for Chargepoint Operators and truly passionate about improving the overall charging experience, Ewiva and &Charge share the same vision in e-mobility.
What really impresses us is that Ewiva has an extremely strong focus on the entire charging experience from the very beginning aiming on continuous improvement and taking the next level in public charging. We are very much looking forward to this cooperation and the joint, active shaping of the market", emphasizes Simon Vogt, CSO and co-founder of &Charge.